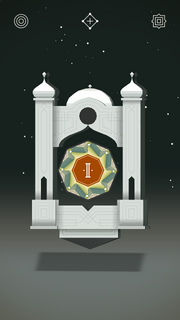 Chapters are the individual levels in Monument Valley and Monument Valley 2. Each chapter features Ida, Ro, or Ro's Daughter navigating a unique location, usually solving puzzles along the way.
There are 19 total chapters in Monument Valley, including the main story, Forgotten Shores, and Ida's (RED) Dream. There are 15 total chapters in Monument Valley 2, including The Lost Forest. Together, there are 34 chapters.
Main Chapters
Forgotten Shores
Forgotten Shores was an update to the original Monument Valley levels, released on November 12, 2014, and containing eight new chapters (called Appendixes). It is available as an in-app purchase from within the original Monument Valley game, at a price of $0.99 (USD).
Appendixes
Ida's (RED) Dream
Main article: Ida's Red Dream
Ida's (RED) Dream, also known as simply Ida's Dream, is the final chapter of Monument Valley. All purchases of this level go to the charity RED to fight for an AIDS free generation. Ida's Dream is included when purchasing Monument Valley, without any update required. If the Monument Valley app is already owned, an in-app paid update is available by pressing the + button at the top of the level select screen.
Monument Valley 2
Main article: Monument Valley 2
Monument Valley 2 is the sequel to Monument Valley.
Chapters VII to X are chronologically out of order, due to the perspective switches between Ro and Ro's Daughter.
The Lost Forest
Main article: The Lost Forest
The Lost Forest was an update to the sequel which was released on October 14, 2021. It is a chapter dedicated to forests which serves to bring awareness to the Play4Forests petition and forest conservation.
Trivia
There is no confirmed name for the levels in Monument Valley 2, as they simply display a roman numeral before the title.